In the busy of the day, when  you and all around is occupied with everything they need to be doing, you may find yourself longing for some space to relax and chill , to breath, to be in the silence away from the hassling crowd,This maybe what you are looking for.
6 Week Relaxation class
With Sonya Hudson
"Give your mind the wings to fly:"
   Sonya Hudson C.M.HCHyp P.NLP M.NLP CNCH a highly experienced hypnotherapist, and Master NLP  Practitioner
I am running a six week relaxation class, incorporating my many life skills within the sessions to produce a high frequency relaxation, deep within your cellular structure. Switch the outside world off and while away the hour.
 Relaxing every part of you, inside and out.
The current state of your Mental and physical health or physical dis-ease is reflected by the amount of positive energy (life force; pranna; chi) stored within your energy field (aura). Pain or discomfort and mental fatigue, is our body's way of making us aware, that something is wrong and that we are out of balance, with ourselves and our lives.
The site of the pain often gives clues as to the root cause of the imbalance. Relaxation Therapy helps to rebalance your body and mind bringing your attention to how to create harmony within that reflects into your life, in a positive way.
When the body is in- balance it is able to deal with its own maintenance; its own growth and repair and therefore heal itself. My Relaxing Therapy sessions, will help to Rebalance and Revitalise you.
·      Session one; discovering how tense you really are, tips on how to alleviate the tension, also included are some visualisations and  a Breathing technique I have found to be very powerful. In assisting you to get to your optimum state of relaxation.
 ·     Session Two; breathing exercise and also a guided meditation. Tips and useful information to help you maintain the calmness within. Affirmations to keep you on track.
 ·      Session Three; guided meditation, with  relaxation techniques.
Shared and constructive feedback.
 ·      Session Four;   Guided meditation, tips on diet.
I will guide you on a journey deep inside, that will help to clear away the chaos, your life can manifest, helping you to think more clearly.
 ·      Session Five;    Guided Visualisation and meditation.
Resonate with you inner voice, your higher guidance, accepting yourself fully, appreciating your journey.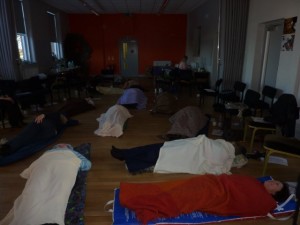 ·      Session Six;      Affirmations, visualisation and meditation.
Observing yourself with gentle eyes; raising your perception of yourself, and your place in the world. You are a child of the universe and your life holds many possibilities, that you may not be aware of yet, this session is all about your inner greatness coming to the surface and propelling you into a more confident you.
One hour per week for six weeks commencing 6th May till the 10th June 2014 -6.30pm till 7.30 pm 
-helping you to re-code your mind to that of a more relaxed and refreshed state of being.
Special offer Is yours for only £50 for six sessions,, there are limited spaces contact me at [email protected]  or via Facebook Sonya Hudson for more details.
Spaces are filling up quickly so book now to avoid disappointment. 

Start changing your life with us at SonyaHudson.com